The X Factor
It was an emotional week on the set of The X Factor with three acts being sent home.

"We've grown so close to a lot of people in the competition and I didn't want to cry or have them be sad on stage," eliminated Sweet Suspense member Millie Thrasher, 14, told PEOPLE with tears rolling down her face after Thursday's elimination show. "We would have loved to have gone further but I'm proud of us for how far we went."

But Thrasher and her bandmates Celine Polenghi, 16, and Summer Reign, 17, were not alone in their sorrow Thursday night. Before the episode ended, country singer Rachel Potter, 29, was also sent packing after the mentors chose to send her home over the jazzy Khaya Cohen, 16.
Demi Lovato isn't ready to jump back into an acting career.

The X Factor judge says it's difficult being on camera since her treatment for anorexia and bulimia. In fact, while millions watch her on TV each week, she doesn't watch herself.

"It is still hard being in front of the camera when you have suffered from eating disorders, and I still don't watch my episodes. It is hard," Lovato, 21, told reporters at Thursday's show.

"I think ultimately my main thing is singing," she said. "Maybe movies once in a while, if the right role comes along."
On Wednesday's episode of The X Factor, judge Simon Cowell predicted that contestant Carlito Olivero would "go home" this week following his lackluster performance of "Rhythm Is Gonna Get You."

But on Thursday night, an annoyed Cowell rolled his eyes when it was revealed that not only was Olivero, 24, staying put this week, but that he was the first contestant to make it through to the top 10.

Adding insult to injury, the girl group Sweet Suspense – whose performance of the Tony Basil song "Mickey" left Cowell raving that they were "the best of the night" on Wednesday – was sent home in a shocking elimination that host Mario Lopez repeatedly described as "an unpopular decision."
The X Factor was all about big hair and even bigger results Wednesday night.

Carlos Guevara was the first Top 13 contestant to be eliminated as the show kicked off by announcing results after last week's technical glitch nullified the voting.

Then it was back to the '80s, as the contestants took on songs from the era of Madonna's fingerless-gloved heyday.
With a baby on the way, X Factor mentor Simon Cowell declared that he was quitting smoking, but in his own words: "I lied."

Claiming electronic cigarettes "don't work," the music mogul eagerly pulled out a pack of cigarettes to light up after taping an episode of his Fox singing competition on Thursday.

"There are a lot of boring things that happen when you have a baby," Cowell, 54, told reporters with a cheeky smile. "[You have to get rid of] sharp edges, cigarettes, alcohol … then there's [baby-proofing] the toilet. But I'll have a smoking room!"
One of The X Factor's contestants was supposed to be sent home Thursday after the Top 13 got down with Motown on Wednesday night.

But when voting information from Wednesday's show turned out to be incorrect – the result of a graphics error during the recap – contestants were asked to perform again on Thursday.

The impromptu performance show, which gave the singers less than 24 hours to prepare, was chaotic: Contestant after contestant was brought out in speedy fashion, and the judges were forced to deliver their comments quickly (often only one or two of the judges got a word in after a performance).

The craziness was summed up perfectly by host Mario Lopez, who said, "This is sort of like speed dating ... but speed singing."
The X Factor got down with Motown Wednesday night as the Top 12 performed hits from the legendary record label.

Make that the Top 13: The live show kicked off with a surprise, as Josh Levi, who was eliminated from the Boys team by mentor Paulina Rubio last week, was invited back as a wild card.

Levi, 15, sang "Who's Loving You" by the Jackson 5, and earned raves from the judges, including Simon Cowell who said, "You went from zero to hero."
At 54, X Factor contestant Lillie McCloud is enjoying a reality she thought had passed her by.

"I had pretty much given up on the idea of becoming a recording artist," McCloud tells PEOPLE. "I never thought I would be doing this again."

Before becoming one of season 3's top 12, McCloud enjoyed success in the 1980s and '90s under her birth name, Nicole, with international dance hits such as "Don't You Want My Love" and "Runnin' Away." But she had never enjoyed the artistic freedom she had hoped for.
After a baseball-induced hiatus, The X Factor returned with its own playoffs on Tuesday night, as one performer from each category – Boys, Girls, Over 25s and Groups – was eliminated.

Ellona Santiago, 17, kicked off the live show for the Girls with "Till the World Ends" by Britney Spears, which prompted a standing ovation from mentor Demi Lovato.

Bespectacled bookworm Danie Geimer, 15, sang "Wrecking Ball" by Miley Cyrus, a performance that had judge Simon Cowell asking, "How do we make you not boring?"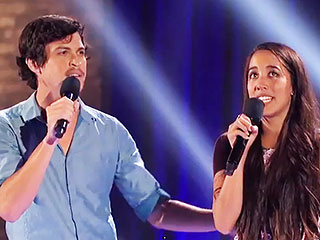 Sparks flew when Alex Kinsey and Sierra Deaton met on a beach back in 2009 – as he played Jason Mraz's "I'm Yours" on his guitar – and the sparks were there again when the duo took the stage during The X Factor's four-chair challenge on Thursday.

The Florida couple, who previously wowed the judges with their fun rendition of Britney Spears's "Toxic," delivered another memorable performance, taking on the Grease anthem "You're the One That I Want."

Romantic, sweet, original and pitch-perfect, the performance gave the judges chills.

"People are going to fall in love with you," Simon Cowell said, adding, "I like the fact that you put your own twist on the songs."
The X Factor