The Voice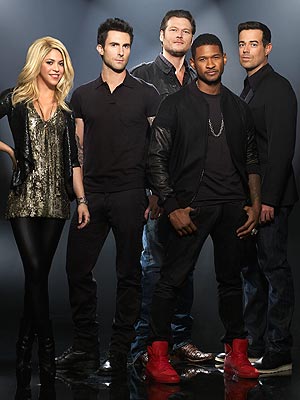 Credit: Mark Seliger/NBC
The Voice said goodbye to two more contestants Tuesday night, leaving just eight skillful singers in the competition.

The tragedy in Oklahoma once again took center stage at the top of the show when coach Blake Shelton, an Oklahoma native, and wife Miranda Lambert delivered a heartfelt version of her song, "Over You," dedicated to the victims of the devastating tornado.

Later, host Carson Daly presided over the tense eliminations, as the saved artists were slowly revealed over the course of the show.

So who went home Tuesday night? Read on to find out ...
She's ready for her close-up!

Christina Aguilera Tweeted a photo from the set of her new video on Tuesday, giving fans a clear look at her slim figure.

"On set shooting music video with @Alexoficial for #HoyTengoGanasDeTi," she writes.

In the image, The Voice judge, who will return as a mentor when season 5 picks up Sept. 23, shows off her curves by posing in a black bra and skin-tight skirt.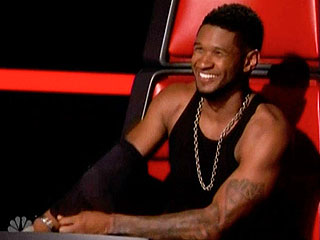 Heat was Monday night's theme on The Voice – even the air-conditioning in the studio gave out for a time.

Despite the setback, the show drew a host of sizzling performances from powerhouse country singers who likely raised their stock for fans at home now voting for the Top 12 finalists.

After 30 minutes without the a/c, a sweltering Usher removed his shirt to reveal a black tank top and sculpted arms, which set fans screaming. But it was performances from country's Amber Carrington, 16-year-old Danielle Bradbery of Texas and the always-soulful Judith Hill that kept the room hot as the night's competition wore on.
The Voice's celeb coaches looked visibly pained Wednesday night before having to send home one of their own contestants.

Shakira – whose team performed Tuesday along with Blake Shelton's singers – couldn't even wave to the camera when she was introduced at the top of the show. "I couldn't sleep last night because of what I knew I had to go through today," she said. "I know my heart is going to break into 100 pieces."

Usher and Shelton looked equally anguished about having to send home one of the singers, whom American did not save. Adam Levine – whose all-female team performed Monday alongside Usher's group – was so torn that he didn't blurt out his choice until credits were rolling.

So who went home Wednesday night? Keep reading to find out ...
The Voice's celeb coaches Shakira and Blake Shelton beamed like proud parents as their teams delivered powerful performances Tuesday night, each fighting for a spot in the top 12 before Wednesday's live elimination.

Team Shakira's Sasha Allen – a steal from coach Adam Levine, whose team performed Monday along with Usher's – closed out the night with her show-stopping performance of "Oh! Darling" that left the judges drooling.

"I feel that we are in front of one of those moments that we all signed up for here, that we all live for in this show," Shakira said. "You just gave us this moment. You have one of the best voices I have ever heard in my life."
The Voice's live shows kick off Monday – and all four celebrity coaches are hoping their carefully selected teams of four talented singers will lead them to victory.

Veteran coach Adam Levine has an all-female team – which fellow judge Usher playfully dubbed "Adam's Angels" – and includes powerhouse Judith Hill, a background singer who was once Michael Jackson's duet partner. Sarah Simmons, a rock, soul and blues artist, who gave a command performance of "Wild Horses" in the knockouts, is another favorite.

Fellow veteran Blake Shelton – who has won the competition twice before – has four country artists representing his team, including 16-year-old ingénue Danielle Bradbery, who had never performed before the competition. Another act to watch are the Swon Brothers, who mark the first time a duo has made it to the live rounds since season 1.
Usher and Blake Shelton helped four singers on their teams inch closer to their dream Tuesday night when they selected them in The Voice's final knockout rounds. But their tough choices amidst strong performances – much like the previous night featuring singers on Team Shakira and Team Adam – also meant heartbreak for talented singers who won't be at the live shows next week.

Team Blake kicked things off Tuesday with country artists Savannah Berry and Justin Rivers. Berry earned praised for her country version of "As Long As You Love Me," but Blake chose Justin for his powerful performance of "The Climb."

"I really thought Savannah was going to win that," Blake said. "But Justin dug down, knowing that this was his last chance and he did it."
It was a strong night of dueling performances for Team Adam and Team Shakira, which are now down to just four acts each after the first night of knockout rounds on The Voice.

Making tough choices with powerhouse singers – no steals, no saves – the judges admitted Monday that playing favorites and saying goodbye was ruining their night. But decisions had to be made.

Amber Carrington beat out quirky duo Midas Whale with a nuanced and powerful turn on Avril Lavigne's hit "I'm With You." Levine called her the "biggest surprise on my team" and said, "Every day we see you continue to blow us away."

In a second round, Team Adam's Amy Whitcomb and Caroline Glaser paired off in a tough battle. In the end, Glaser outshined her best pal with a performance of Little Talk's "Of Monster's and Men."
Well, that's one way to knock out the competition.

Delivering on the promise of The Voice's upcoming knockout round, standout contestant Sasha Allen delivers a rousing rendition of late and legendary singer Etta James's classic "At Last" in a sneak peek (below) at this week's challenge, airing this week (Monday and Tuesday at 8 p.m. ET) on NBC.

The 30-year-old's performance was so good, it even knocked her coach, Shakira, right out of her chair and into a standing ovation.
Goodbye, battle rounds!

The Voice's coaches finalized their teams for the knockout rounds on Tuesday, paring down their roster from 12 singers to just six, plus the two new teammates they each added with their strategic steals.

Usher was the only coach who had an available steal and he used it to nab a Latina pop singer from Team Shakira in the final moments of the show. Shakira pitted Bronx native Cathia, an aspiring Latina pop star, against Cuban-born Mary Miranda – and in a bold move assigned the singers to perform her own song, "Antes Des Las Seis."

Usher teasingly wondered whether the choice was "narcissistic," but fiery (and slimmed-down) new mom Shakira explained, "I wanted to see if they would try to imitate my voice or make it their own."
The Voice
Get PEOPLE Everywhere
Advertisement