The Voice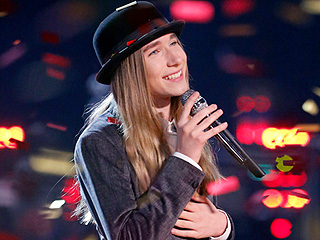 Credit: Trae Patton/NBC
Sawyer Fredericks was officially crowned the winner of The Voice Tuesday night, but the singer only has one thing on his mind – getting back to his roots.


The Voice season 8 has come to an end, and Sawyer Fredericks has been crowned the winner.

With performances by Ed Sheeran, Maroon 5 and Luke Bryan, the singing competition once again provided a star-studded finale. But despite the night's star power, the attention was on the final four contestants Tuesday night.
[YOUTUBE "l2AVHvEugxw"]
Christina Aguilera has built her entire career on her voice. However, hitting high notes isn't her only vocal superpower.


After a season full of steals, saves and tears, we have come down to The Voice's final four – and it's quite a bunch!

Because it's impossible to decide our favorite finalist, PEOPLE has broken down and analyzed the final four in depth.
The Voice is once again pulling out all the stops for its star-studded finale.


The Voice's Carson Daly paid tribute to the canceled American Idol Monday, saying the singing competition "paved the way for shows like us."

"[Our success] would never had happened if Idol didn't have the kind of success that it had," The Voice host said at the show's Top Five press conference at Universal Studios. "Tip of the cap to them for paving the way for shows like us."
Blake Shelton had some fighting words for the guy who got arrested for sugar-bombing his Voice buddy Adam Levine.

Asked at The Voice Top Five show at Universal Studios on Monday if he had ever been in a similar situation, the  "Boys 'Round Here" singer said:

"Man, you know what, I can't say that I have. It never ceases to amaze me how stupid people can be just to try – I can't even imagine why," he said. 
At 16, Avery Wilson won over the judges on season 3 of The Voice with his blind audition cover of David Guetta-Usher hit "Without You." He joined Team Cee Lo but was booted too soon in a battle round – but three years later, he's doing just fine.


The competition never ends!

Christina Aguilera is loving the fact that she is one step ahead of fellow Voice coach Blake Shelton.

"I'm finally beating Blake at something. It's amazing and awesome, but you know, I'm milking every second of it," Aguilera, 34, told reporters at the The Voice Spring Break Concert on Thursday.

Though not exactly ahead on The Voice, the "Beautiful" singer recently took the No. 3 position on the iTunes Top 100 Country Songs chart for "Shotgun," a song that was featured on ABC's Nashville this week, pushing Shelton's "Sangria" down to the No. 4 spot.
The Voice