The Voice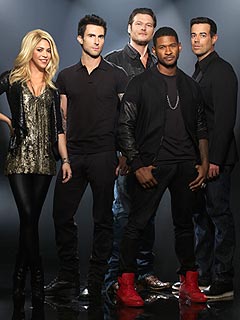 Credit: Mark Seliger/NBC
Goodbye, battle rounds!

The Voice's coaches finalized their teams for the knockout rounds on Tuesday, paring down their roster from 12 singers to just six, plus the two new teammates they each added with their strategic steals.

Usher was the only coach who had an available steal and he used it to nab a Latina pop singer from Team Shakira in the final moments of the show. Shakira pitted Bronx native Cathia, an aspiring Latina pop star, against Cuban-born Mary Miranda – and in a bold move assigned the singers to perform her own song, "Antes Des Las Seis."

Usher teasingly wondered whether the choice was "narcissistic," but fiery (and slimmed-down) new mom Shakira explained, "I wanted to see if they would try to imitate my voice or make it their own."
As the second week of battle rounds began on The Voice Monday, talented singers swapped teams, proving the competition is as tight as it's ever been.

The night's soulful finale, pitting Team Usher's Orlando Dixon against Ryan Innes made for a rousing and inspired finish. The competitors, matching Innes's blues prowess against Dixon's technical mastery of R&B, left no doubt that winning season 4 will be tough.

Singing Bill Withers's "Ain't No Sunshine," the men put on an impassioned show, featuring dueling runs, falsettos and raw emotional power. After much deliberating, Usher chose Innes, praising his conviction and depth, calling him "powerful."
The ladies stole the show for the second night in a row on The Voice Tuesday. And an epic steal showdown between coaches Adam Levine and Usher ensured that two of the youngest singers in the competition – unassuming singer-songwriter Caroline Glaser, 18, and wholesome high school country powerhouse Danielle Bradbery, 16 – would not go home.

Coach Blake Shelton paired the two shy young singers together to perform "Put Your Records On" by Corinne Bailey Rae.

Shakira praised their performances "as refreshing as tangerine ice cream," while Levine called himself an "imbecile" for not turning his chair for Glaser during the blind auditions.

"Danielle's performance was maybe more perfect," said Levine. "But Caroline, there is just something so ethereal and magical and wonderful about your voice."
It may be a man's world (as the song goes) but the talented women of The Voice brought the heat on the show's first night of battle rounds.

"It was certainly a woman's world tonight," host Carson Daly said after power vocalists Karina Iglesias and Judith Hill threw down on the James Brown classic, "It's a Man's Man's Man's World."

Soaring, impassioned and fierce, the divas-in-training matched up perfectly, putting on a clinic of sorts in a performance that had judge Blake Shelton "freaking out."

"You guys were connected from the moment you first came out," said a grinning Usher.
We have a winner!

Shakira melted the hearts of The Voice audience members at the show's battle round taping on Tuesday evening in Burbank, Calif., when she showed off her new son, Milan, born in January.

While on a break between contestant performances, the singer beamed when she was handed her baby boy. Holding her son up so the cheering audience could see him, Shakira then sat back down in her red chair, cradling her babe while their picture was taken.

The show's host, Carson Daly (also a dad), went right over and starting 'oohing' and 'ahhing' at Shakira's little guy, while coaches Blake Shelton and Adam Levine took quick peeks before returning to their seats.

Moving Milan to the beat of fellow mentor Usher's "OMG," Shakira "was nothing short of a proud and doting mom," an onlooker tells PEOPLE. But just before the break, the 2½-month-old started to fuss – loud enough that his little cries echoed through the whole studio. After the crowd let out a cute 'aww,' Shakira handed her baby off to be taken backstage – but not before puffing out her bottom lip in protest. – Jessica Herndon


The battle lines are officially drawn!

The Voice's coaches finalized their teams of 12 singers Tuesday during the last night of blind auditions. (Spoilers ahead!)

Blake Shelton completed his team first when he scored classical ballerina-turned-tattooed rocker Jacqui Sandell from Oakland, N.J. The 24-year-old motivated both Blake and Usher to push their buttons with her rendition of "Dreams" by Fleetwood Mac.

"Your voice is so sneaky," Blake said as a compliment. "You have a very sexy sound."

Sandell quickly chose to join Team Blake and proclaimed she was so excited she wanted "to pee my pants." (Fortunately, she didn't.)
The talent pool got a bit deeper on The Voice Monday, when a new crop of artists of all ages had chairs turning on another night of blind auditions.

Ryan Innes, who performed last, impressed all four judges with his righteous yet controlled soul bend on John Mayer's bluesy "Gravity."

He picked Usher as his coach but not without mounds of praise from the competition.

"This is the most fun I've had listening all day," Blake Shelton told Innes, a rounded and bearded blue-eyed soul singer from Thatcher, Ariz.
The Voice's celebrity coaches added some powerhouse talent to their rosters Tuesday during the fourth day of blind auditions, which featured songs by Adele, Taylor Swift, Joe Cocker and more.

Country sweetheart Savannah Berry, a 17-year-old singer from Houston, helped score a major victory for Team Blake in the final moments of the show with a confident version of Swift's aptly titled "Safe and Sound."

The performance wowed Blake Shelton, Shakira and Adam Levine (who scored a major coup Monday night when he snatched away a country singer from Shelton for the first time). Yet Levine seemed to know he was toast when Berry named Shelton's wife, Miranda Lambert, as one of her musical influences, while Shelton tantalizingly hoisted his wedding ring in the air.

"You're so good," Levine pleaded with Berry before she made her choice. "You're so screwed," Shelton said to Levine.
The third night was the charm for a new crop of The Voice contestants, who covered Tom Petty, Mary J. Blige, Katy Perry – and even songs by judges Shakira and Blake Shelton Monday night.

But there was also heartbreak: Julie Roberts, a gold-record selling country artist who hit fame in 2004 – only to be dropped by her label in 2010 – failed to turn the chairs of any judges in a comeback bid, even as she sang Shelton's "God Gave Me You."

"She just kind of fell through the cracks in the business and it's not fair," Shelton said of her talents once he saw who had performed his song. "I just feel really bad that I didn't turn my chair around."

Roberts, 33, who lost everything she owned in the 2010 Nashville flood and was also diagnosed with MS the same year, took the tough news well. "God just has another path for me and I have to find that," she said.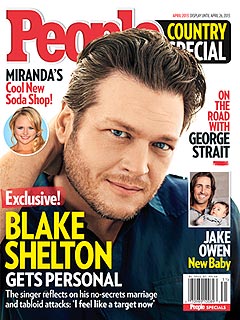 Blake Shelton is ambling toward a dressing room backstage at the Grand Ole Opry, nodding and offering a good-natured grin to a group of women clustered in a doorway watching him pass by.

One blonde onlooker – the mother of another act, it turns out – giggles and swoons as he walks past, grabbing the door frame to steady herself. A few feet down the crowded hall, a pair of young women – relatives of another artist on the evening's bill – approach, hoping for a hug and a picture. Blake supplies both, calling out jovially, "Can you crop out my third chin?"

Before the photo's even snapped, an autograph-seeking circle forms around him.
The Voice
Get PEOPLE Everywhere
Advertisement