The Voice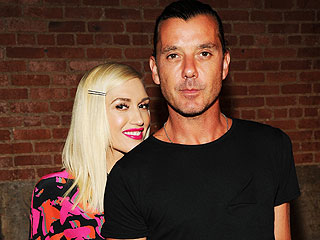 Credit: Bryan Bedder/Getty
Gavin Rossdale and his wife, Gwen Stefani, don't get a lot of downtime. 

"That's why I called my new Bush album Man on the Run," he tells PEOPLE of his band's newest release, out now. "It's such an incredible pace we all live at, and we're all sort of scattered and challenged. There's not enough hours in the day, or days in the week. I have my first afternoon off in three weeks later today, and I'm giddy with excitement! I don't actually know what to do with the time."

Even so, when the rock star's wife, 44, asked if he wanted to join her on The Voice as a mentor for her team this season, he was immediately game to add it into his already packed schedule.
Season 7 of The Voice turned a competitive corner Monday in the fifth and final night of the show's blind auditions.

Adam Levine, a veteran coach and two-time winner, showed he was still in it to win it, snagging the night's most mature contestant and the evening's only four-chair turn with Aiken, South Carolina, radiology technician Beth Spangler, 30.

Maybe it was her black leather overalls, or sassy haircut, or sunshine smile. But likely it was Spangler's sparkling vocal range and her ease in helming Beyoncé's "Best Thing I Never Had" that had the coaches in a full-on fight for her attention as each got picky in sparring over the last few star contestants.
It's official: Pharrell Williams will pretty much stop at nothing to win over a contestant he wants on The Voice.

The master singer-songwriter-producer-and-hat-wearer wooed contestants using everything from expertly crafted sales pitches to doodling like a lovesick schoolboy in an attempt to win over promising contestants as season 7's blind auditions continued Tuesday.

His arsenal was on full display as the show kicked off with a commanding rendition of "At Last" by San Diego resident Katriz Trinidad, who sounded much older than her 15 years.
She's not just a girl. She's a star!

Powerhouse singer Anita Antoinette returned to The Voice on Monday, showing her moxie and persistence on the third night of Season 7 blind auditions to earn a four-chair turn and praise from all the coaches as a blossoming, much-improved performer.

And Gwen Stefani showed that she came to compete by snagging Antoinette, one of the evening's most coveted contestants, and cheekily asking veterans Adam Levine and Blake Shelton why they let her go in in Season 3.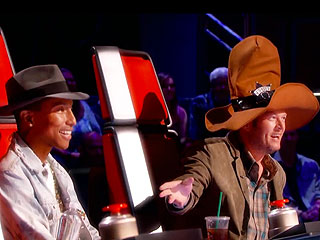 The Voice coaches all had the same message for a contestant who delivered a masterful version of Sam Smith's haunting hit: Stay with me.

But Los Angeles resident Maiya Sykes, who closed out the second night of blind auditions Tuesday with the emotional song, could only choose one coach – although they all tried their best to woo the professional singer and Yale graduate, who has been struggling to find her footing in the music industry for well over a decade.

"What excites me the most is that when people have their own story, it's about amplifying who you are and you telling the world your story," newbie coach Pharrell Williams said in a heartfelt appeal. "Do I get a little bit of Aretha? Yes. Do I get a little bit of Gladys Knight? Yes. But I am so interested in who you personally are, and that's the story I want to amplify."
It was Throwback Sunday for Gwen Stefani, who posted an old photo of herself and hubby Gavin Rossdale for their 12th wedding anniversary.


The Voice nemeses Adam Levine and Blake Shelton are both family men now. But while Levine just celebrated one big milestone, Shelton isn't quite ready for the next one.

In an appearance to air Monday on The Ellen DeGeneres Show, Levine – who married model Behati Prinsloo in July – reveals that he's just head over heels for the word wife.

"I abuse that word right now, a lot," says the Maroon 5 frontman, 35. "I'll say it for no reason. I'll say, 'Where is my wife?' And she'll be right there. Wife, wife, wife. I love that term. I even changed the number on my phone to 'Wife' when she calls."
The Voice
Get PEOPLE Everywhere
Advertisement