The Voice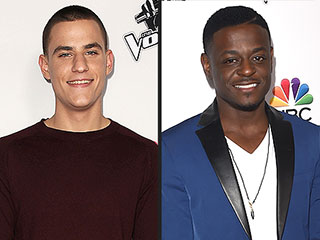 The stage lit up as Jennifer Hudson and Jessie J serenaded the crowd with number one hits during The Voice Season 7 finale Tuesday night, but all eyes were on the four finalists who sang beside them, battling it out to win the competition.


Three songs each. One last chance to shine.

Monday night's live finals on The Voice delivered a classic duel between Adam Levine and Blake Shelton – who've won the singing competition twice and three times, respectively – as Season 7's top four artists competed one final time.

The singers, all men, debuted original songs that will become their first records, along with sneak peeks of the videos for them.
That was one wild night.

The Voice threw precedent out the window Tuesday night when it brought back eliminated artists from the Top 12 to perform one last time to earn the newly created fourth wild card spot in next week's finale.

The switch-up meant that (for once) Carson Daly wasted no time in revealing the three finalists advancing to next week: Craig Wayne Boyd of Team Blake Shelton and Matt McAndrew and Chris Jamison – who was the recipient of the Twitter instant save the previous week – of Team Adam Levine.
[YOUTUBE "u1_9EbxXnlI&list=PLlYqpJ9JE-J8EARbJH-1UxPLo-Z5_gQbW"]
Chris Jamison didn't take the easy route to the Top 5 on The Voice, fighting his way into the semifinals last week after earning four-chair turns in the show's blind auditions.

But the Pittsburgh pop singer claimed his space with some sexy force Monday, stepping up for Team Adam Levine with his trademark falsetto to look every inch the polished pop star. Move over, Justin Timberlake!

First, Jamison showed off heightened style and confidence as he performed his song choice, Maroon 5's next single, "Sugar," alongside a groovy line of Daisy Duke-clad backup players. As Jamison strutted confidently, his cherry-lipped posse swiveled their hips with matching red electric guitars in hand – an irresistible stage wink at Robert Palmer's "Addicted to Love" video and his '80s supermodel video phalanx.
Were any teams completely wiped out of the competition? Will the Top 5 feature only male singers? Did Taylor John Williams really describe his style as "Amish hipster?"

These questions and many more were answered on The Voice Tuesday night during an action-packed live elimination show that featured half of the Top 8 at risk of going home.

Just one week before the semifinals begin, host Carson Daly revealed the four artists who would automatically advance.
The Voice's Top 8 contestants brought plenty of emotion to Monday night's live show – and had the judges feeling it, too.

With competition fierce and three artists set for a tough elimination Tuesday, the remaining singers raised the bar and gave prospective fans a sharper window into what they'd look and sound like as future stars.
Not even Taylor Swift could take away from the real drama on The Voice Tuesday.

The megastar – and Voice Season 7 special advisor – delivered a fierce performance of her latest hit, "Blank Space," during the live elimination show, but even she couldn't overshadow the big question of the evening: Which two artists were going home?

Viewers got their answer at the end of the show, but not before the bottom three artists in the Top 10 performed one final do-or-die song to win this week's Twitter instant save and the final spot in the Top 8 heading into next week.
[YOUTUBE "XlSFw_7p3Yk"]


It was dream-scenario Monday night for Team Pharrell star DaNica Shirey on The Voice.

She sang a few bars of Whitney Houston's "I Have Nothing" to the late icon's longtime mentor, Clive Davis, who met with the Top 10 singers and gave Shirey high praise – after she sweetly confided that she'd written an 11th grade biography about Davis's life. And she'd learned to sing Whitney on a karaoke machine her late father bought her when she was 8.

Awww.
The Voice instant save is back – and made for a drama-filled live elimination show Tuesday as three artists fought for the final spot in the Top 10.

Just one night after the remaining 12 artists delivered a string of well-received performances, the artists once again stood onstage, although this time it was to learn their fates.

Host Carson Daly announced the artists who were safe throughout the first two-thirds of the show, until it finally became clear that only Team Adam Levine – who was enjoying his last evening as PEOPLE's reigning Sexiest Man Alive – would be spared potential elimination.
The Voice