The Voice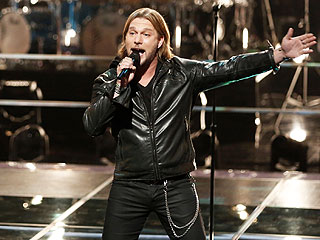 Credit: Tyler Golden/NBC
The four teams on The Voice were finalized Monday. And thanks to a last-minute save by Blake Shelton, one Southern rocker – looking "hotter than ever" – could make a big splash when the live rounds kick off next week.

Craig Wayne Boyd, the charismatic Mesquite, Texas, native, heeded mentor Taylor Swift's advice to "take us to church," commanding the stage with the Marshall Tucker Band's classic heartbreaker "Can't You See" and earning a standing ovation from Pharrell Williams.
Leave it to coach Pharrell Williams to make a decision that had everyone's jaws on the floor.

The dynamic new coach stunned his fellow coaches – and just about everyone else watching – when he made a surprise choice to close out the second night of The Voice's knockout rounds.

Williams pitted California-based Elyjuh René, 18, against Ricky Manning, a 19-year-old Florida native who now sings in New York City subway stations. The duo received coaching from special advisor Taylor Swift, and initially all signs pointed to Manning for the win.
When Taylor Swift tells you to put down the guitar, you put down the guitar.

Dallas father Taylor Phelan did just that on Monday as season 7's knockout rounds began on The Voice – heeding the pop star's call to ditch his ever-present stage crutch and let his personality shine through.
[YOUTUBE "GJUROaAq0Iw"]


What a way to make their dads – up in heaven – proud.

Two powerhouse female vocalists delivered a stunning performance during Monday night's penultimate battle rounds on The Voice, tearing up Beyoncé's "Halo" as a remembrance of the fathers they both lost.
Is the biggest talent to emerge on The Voice this season not a contestant, but newbie coach Pharrell Williams?

It sure looked that way Tuesday night, when the "Happy" singer/songwriter showed off his tender side and tactical strategy while playing a key role in all three battles featured on the second night of the battle rounds.

The show kicked off with Team Pharrell, and pitted Alabama college student Jordy Searcy, 20, against musician-turned-Texas-family-man Taylor Phelan, 25, singing the moving hit "Breakeven (Falling to Pieces)." Williams, along with advisor Alicia Keys, focused on coaxing more emotional performances out of the pair.
Gavin Rossdale and his wife, Gwen Stefani, don't get a lot of downtime. 

"That's why I called my new Bush album Man on the Run," he tells PEOPLE of his band's newest release, out now. "It's such an incredible pace we all live at, and we're all sort of scattered and challenged. There's not enough hours in the day, or days in the week. I have my first afternoon off in three weeks later today, and I'm giddy with excitement! I don't actually know what to do with the time."

Even so, when the rock star's wife, 44, asked if he wanted to join her on The Voice as a mentor for her team this season, he was immediately game to add it into his already packed schedule.
Season 7 of The Voice turned a competitive corner Monday in the fifth and final night of the show's blind auditions.

Adam Levine, a veteran coach and two-time winner, showed he was still in it to win it, snagging the night's most mature contestant and the evening's only four-chair turn with Aiken, South Carolina, radiology technician Beth Spangler, 30.

Maybe it was her black leather overalls, or sassy haircut, or sunshine smile. But likely it was Spangler's sparkling vocal range and her ease in helming Beyoncé's "Best Thing I Never Had" that had the coaches in a full-on fight for her attention as each got picky in sparring over the last few star contestants.
The Voice
Get PEOPLE Everywhere
Advertisement