MasterChef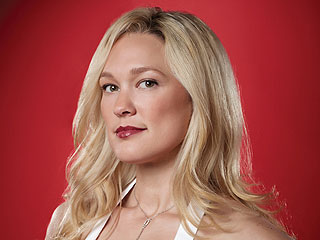 Credit: Chris Tomko/FOX
Season 2 MasterChef winner Jennifer Behm is a food lover, owner of Pink Martini Catering, a soon-to-be wife, an adventurer – and this summer a food blogger for PEOPLE.com.

This week has been filled with lots of fun stuff.  A trip to the Baltimore Aquarium, an excursion to Philly to enjoy South Street, and a trip to one of my favorite places: Amish Country.  

As an avid snorkeler and surfer with an immense love of sea turtles, I find the Baltimore Aquarium such an amazing place. They have a gorgeous green turtle named Calypso, who was rescued from the wild due to an infection in her left fin. Her diet: seven heads of lettuce a day. Boy, I would have a great figure if that was all I ate. I like my lettuce with a little more accoutrements (LOL), like garbanzo beans, cucumbers, cherry tomatoes and pickled vegetables.  
Joe Bastianich is a successful restauranteur, vineyard owner and author of the memoir Restaurant Man. He's also a judge on MasterChef, which challenges home cooks to prove they can cut it in top professional kitchens. Each week he's blogging season 3 of Fox's hit show, offering an insider's take on the competition.

On Tuesday's episode of MasterChef, our final six conducted service at none other than the great Hatfield's of Los Angeles. This is a restaurant of significance, a Michelin-starred establishment, and it is time for the home cooks to show us their capability as professionals.

While I was thrilled to finally see that Christine was not picked last by a team captain, I was questioning whether it was fair to put her in this challenge. My comments may have offended some, but the fact remains – she cannot see, and we threw her into a complex kitchen without giving her time to familiarize herself with her environment and its hazards. She doesn't have the advantage of spotting potential dangers visually like the other home cooks. This is just a fact. If you've read my book Restaurant Man, you know that I don't hold back on my opinions.
It's getting down the wire with only six contestants left on an intense third season of MasterChef. Taking a hard look at this group, we judges could not help but wonder if there might be a few who still deserved to be here.

We decided to throw a major curveball and do something we've never done before on the show by giving a huge opportunity to those who've recently said goodbye. Giving the last eight contestants to go a chance at redemption was not only something they deserved, but a great way to ensure our top six aren't getting too cozy.
Christine Ha is heating up the competition in the MasterChef kitchen.

But as the Fox show's first blind contestant she's inspiring people around the world with her ability to prepare all kinds of dishes under pressure.

"I have gotten a lot of amazing letters from people, messages – just an outpouring of love and support," says Ha, who chatted with PEOPLE at the Television Critics Association summer tour in Beverly Hills on Monday.
Season 2 MasterChef winner Jennifer Behm is a food lover, owner of Pink Martini Catering, a soon to be wife, an adventurer – and this summer a food blogger for PEOPLE.com.

Last week was exciting! After catering four events and taking meetings with some networks, I missed my flight to L.A.

Did you know they cancel your entire flight if you miss your outbound? Yep, I was at Philly International with no ticket, but thanks to the amazing services of Lerone I was able to secure a seat to L.A.
Tuesday's episode of MasterChef was a turbulent ride for our remaining seven home cooks. We threw them into the fire with our first ever tag team elimination challenge, and the results proved that it did indeed push everyone to the breaking point.

Monti and Felix were downright impressive, and not just because Felix has experience with sushi. Their plate was a result of exemplary team work. It's no secret that they don't particularly care for each other, but they checked their egos at the door, communicated beautifully and gave us exactly what the judges were looking for. We certainly cannot say the same for Becky and David.

Frank has come a long way from his one-trick pony days of plate after plate of pasta. Taking a spin on traditional Southern food from none other than the great Paula Deen, arguably the reigning lady of Southern cuisine, was risky to say the least. But kudos to him – he pulled it off nicely.
Serving up a perfect steak to hungry cowboys in under 90 minutes is not something I'd want to rest a quarter of a million dollars on, but this is exactly what we asked our eight remaining home cooks to do.

Guest chefs at Horse Town USA for the day, both teams were given truly amazing pieces of meat to work with – and to mishandle them at this point would be a sin. Steaks are not tricky; half the battle is ending up with a quality piece of meat to work with.

How Becky, of all people, ended up massacring a quarter of the red team's cut I'll never understand. In fact, I'm a little suspecious ... was she trying to get Monti as team leader sent home? I don't buy that Becky can't cook a steak. Overconfident at times she might be, but careless and incompetent she is not.
From what was once a solid and tight-knit group of home cooks, on Monday's episode of MasterChef we saw the competitive nature of our contestants! With nine left, the pressure is mounting, and we are anxious to see who has the ability to carry it to the next level.

Sea urchin is not something that is found in most kitchens across the country, but Graham, Gordon and I wanted a clearer picture of our home cooks' food sensibility and creativity. Cooking is a craft, a profession and an art form. A true MasterChef should have the ability to work with something foreign to them and, with little explanation, should possess enough innate knowledge and intuition about food to make the most out of it. It is what differentiates a cook from a chef. We saw this with both Felix and Josh in the uni challenge, and later with Monti during elimination. It is exactly what we expect at this stage of the game, and those who don't possess it will be weeded out.
Season 2 MasterChef winner Jennifer Behm is a food lover, owner of Pink Martini Catering, a soon to be wife, an adventurer – and this summer a food blogger for PEOPLE.com.

As a kid, I think I spent every day at the pool in the summer. As a teen, I spent hours cruising in my best friends Honda Prelude, – yep, sunroof open rocking to DJ Jazzy Jeff and the Fresh Prince! In college, most of my summer days were spent mountain biking, surfing, playing soccer and laughing with friends.

Now, as an adult, I love having my friends and family for Sunday Funday – sometimes just to hang out at the local pub (love that one, because cleanup is so easy, LOL). And sometimes it is great just to sit on the patio with my dog Zoe, fiancé and a cold bevie. Funny how things change.
On Monday's episode of MasterChef, our top 12 contestants faced off in another team challenge in Venice Beach, Calif. Venice Beach may be L.A.'s most laid back neighborhood, but that does not mean the locals don't take their food seriously – food trucks are huge here! With Stacey being the big winner from last week, she was given advantageous task of splitting her fellow competitors into three groups of four, and showed us that she came to play.

I've got to hand it to Stacey. She's taking the competition seriously and has really stepped up these last few weeks – not bad for someone who initially didn't get past the audition round. Her strategy was sharp and cunning, and for the most part, her plan paid off. I love how she did whatever it took to get more people in her line – it ultimately secured her team the win, and tells me she can hack it in the real world of running a restaurant. For me, she's become a top contender.
MasterChef